One of the most wonderful things about decorating for Christmas is that you don't have to break the bank…instead, just walk outside and see what's there to work with. Here are some easy ideas — all with a little flair for our outdoor living lifestyle.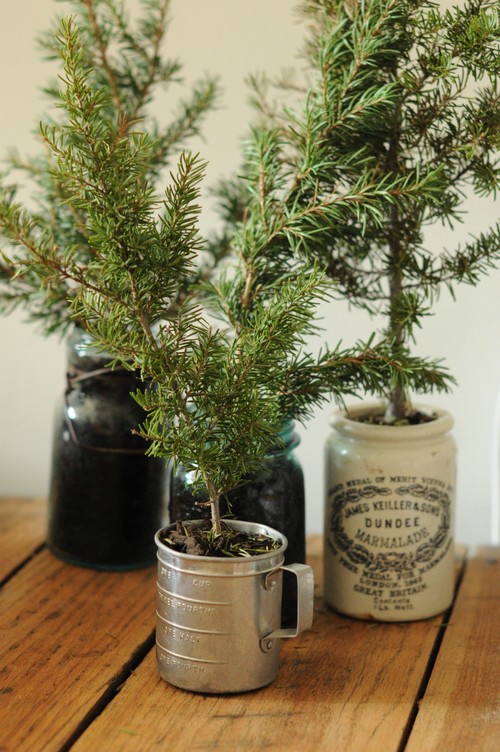 A little grouping of cuttings goes a long way in Christmas decorating. A short walk in the woods will bring a ton of Christmas home if you look for it. And if you live in a city, swing by where they're selling Christmas trees and ask for a few of the leftover cuttings…
Believe me, they want to get rid of cuttings.
Here's gramma's favorite lap blanket, some burlap (love the idea for the placemats!), the hurricane candles you use all summer long, some cuttings, a trip to Michaels for bells and some burlap ribbon…and viola.
OK, somebody took a little chainsaw time to get the "stump" pedestals. If you happen to have a handy chainsaw guy (or someone who thinks he or she is) — try to get some. You'll use them all year long.
Now…take a look at this room —
I know that it's wrong to covet…but. This Montana interior is tough for me to not covet. However, the reason I pulled this photo is simply for the poinsettias. Ever since Truman Capote wrote about how much he hated the flower, some wannabe fancy ladies decided to become snobbish about the traditional holiday flower. Sorry, but Truman Capote doesn't decide for me what's "upscale" or not. I'll decorate with poinsettias, thank you. (Even though they are indigenous to Central America — hardly a cold weather plant!)
I just want to make sure I'm getting the point in on the poinsettia….
NOW…on to the antlers. IF YOU'VE GOT 'EM, FLAUNT EM!
Pretty simple, and fun.
And how about this for an Advent Calendar…!
If you don't have an antler candlestick, you might have access to pine cones…
I could go on and on today, but there's a Christmas play at school and the Nativity pageant at church, and presents to wrap, and horses, dogs, guinea pigs, chickens, cats, cows to feed, oh yea, kids and husband too.  So this post is the "keep it simple" post. We've all been in the houses so elaborately decorated that it's a little overwhelming and you wonder what else the decorator does in December. Well, maybe this is your year for keeping it simple. Or maybe not … !
…BTW, just to give you an idea of the nativity pageant. The pictures are just too wonderful not to post…and the boys are going to kill me….
 I'd better sign off now. It's best.